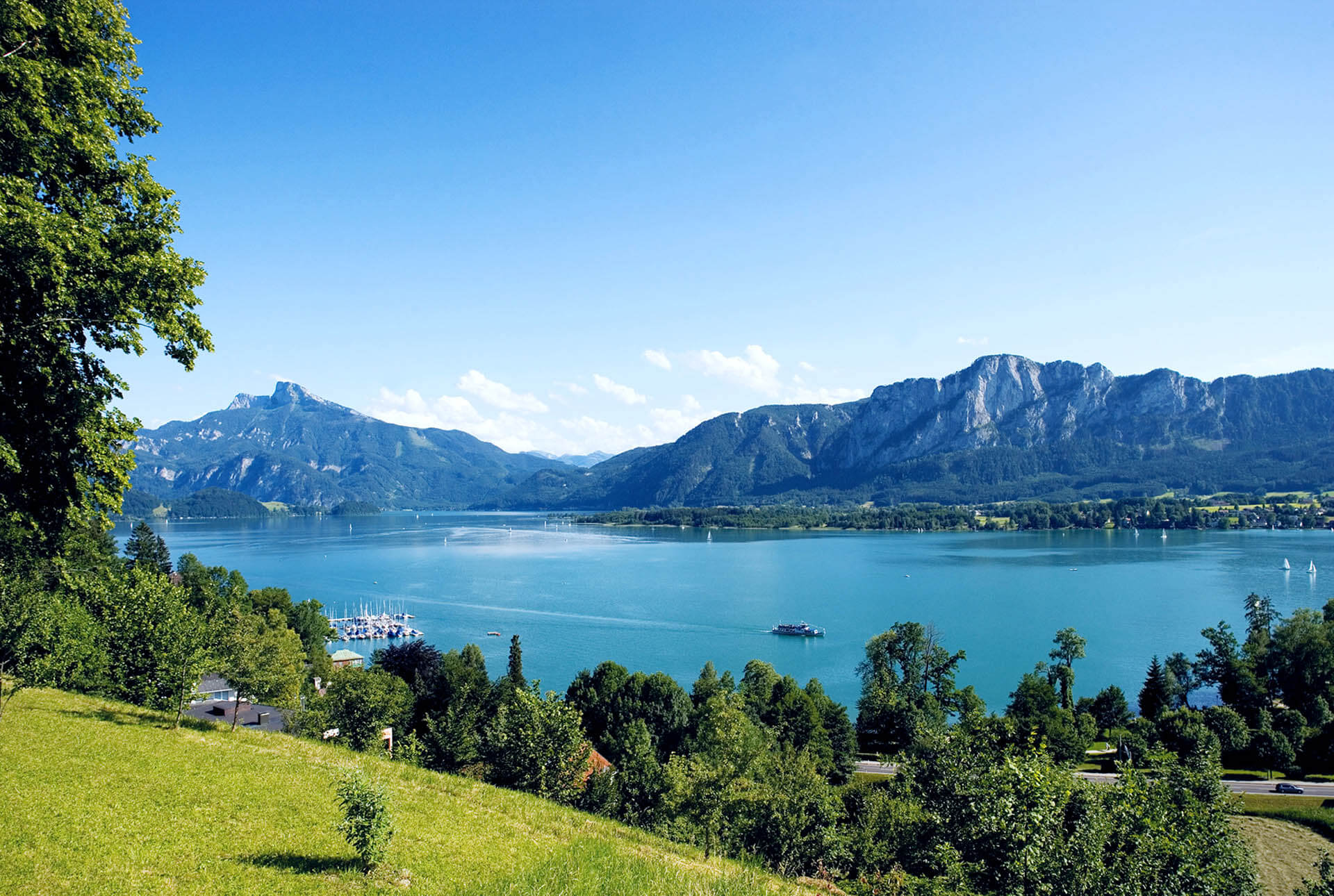 © TVB MondSeeLand
Mondsee
The region which surrounds Mondsee encompasses a brilliant array of highlights – sporting, including two golf courses, as well as cultural. Guests are offered countless opportunities. Some of the must-sees and must-dos during your visit to the Mondsee region are described here.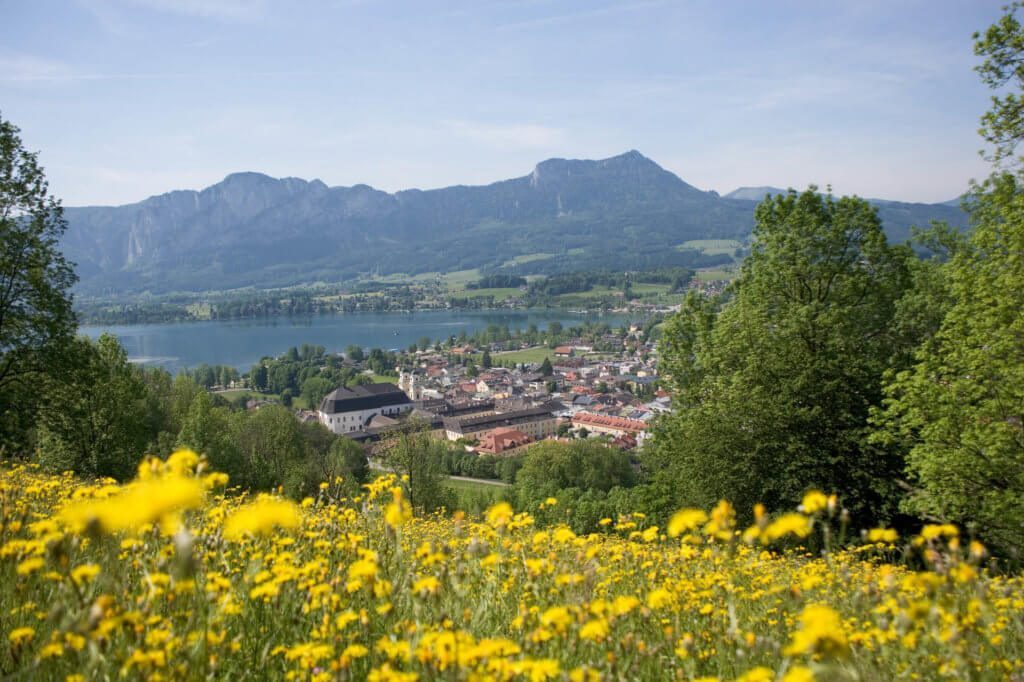 Mondsee
Mondsee Town Center
This world-famous town is a mecca for romantics and culture lovers. Beautifully situated on the lake of the same name, in the heart of the Upper Austrian part of the Salzkammergut, surrounded by a spectacular mountain world with resonant names such as the Drachenwand and Schafberg. 6000 years of history have shaped this small market town, also a listed UNESCO World Heritage site – not least due to the discovery of ancient pile-dwelling finds. Stroll along the lakefront and through beautiful Almeida Park, and enjoy a cup of coffee amid the magical ambience of the charming market square – with view of the basilica and Schloss Mondsee.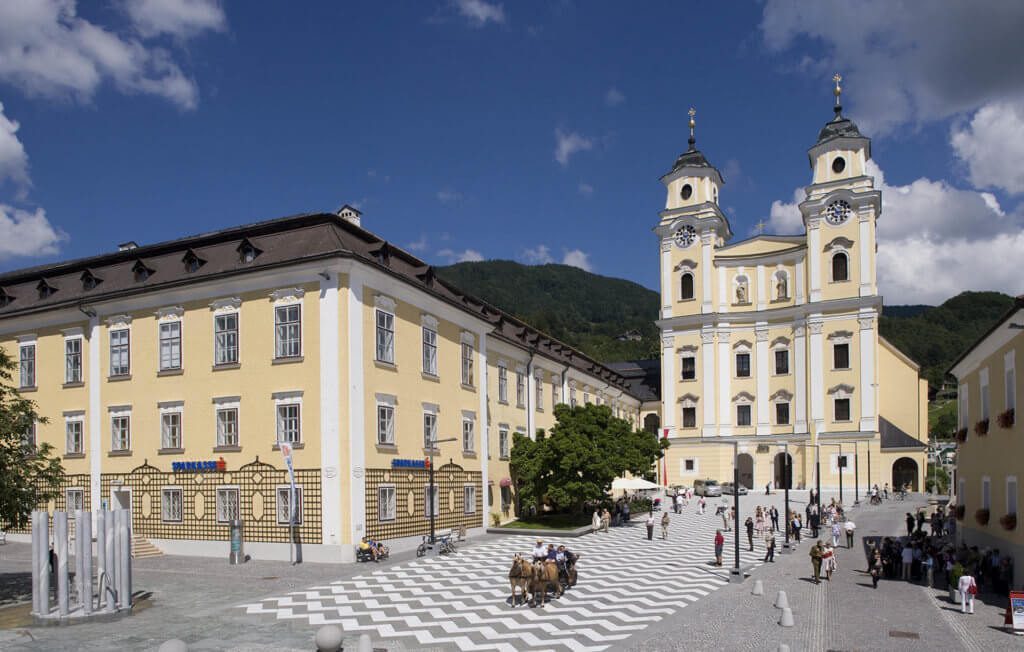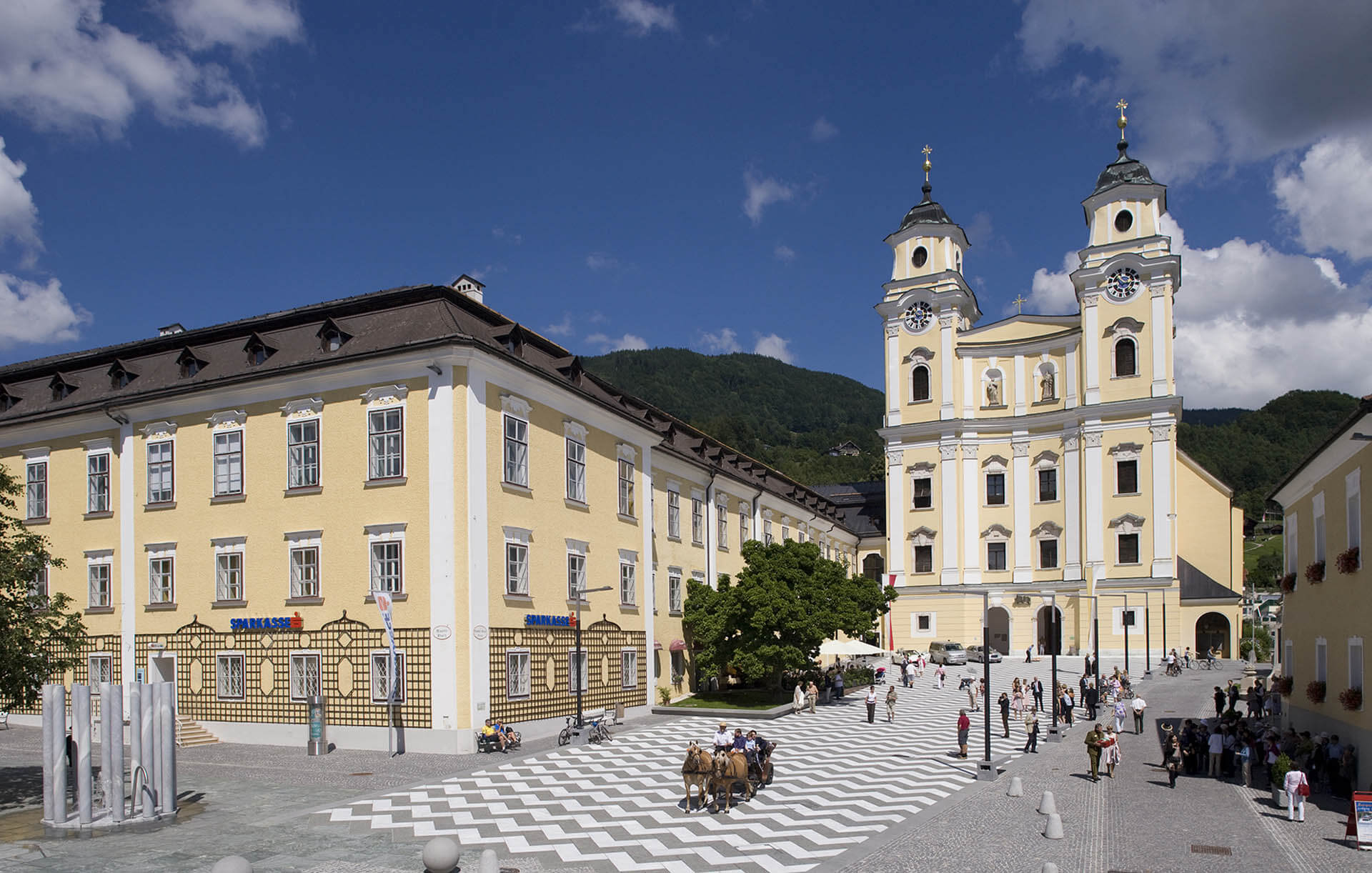 © TVB MondSeeLand
St. Michael's Basilica
Visible from afar and well-known far beyond the borders of Mondseeland – Saint Michael's Basilica. This former abbey church of the Benedictines (built between 1463 and 1499) is today a cultural and historical hotspot. The basilica became famous worldwide as the shooting location for the wedding ceremony in the movie "The Sound of Music". Here, the Gothic architecture with its Baroque, pink interior décor achieves magnificent effect. In 2005, the church was raised to the status of a Roman Catholic basilica by Pope John Paul II and placed under special protections as a historic monument. Today, countless visitors are able to participate in a wide variety of worship services.
Basilica of St. Michael Mondsee
Kirchengasse 1
5310 Mondsee am Mondsee
Phone: +43 6232 4166
E-Mail: pfarre.mondsee@dioezese-linz.at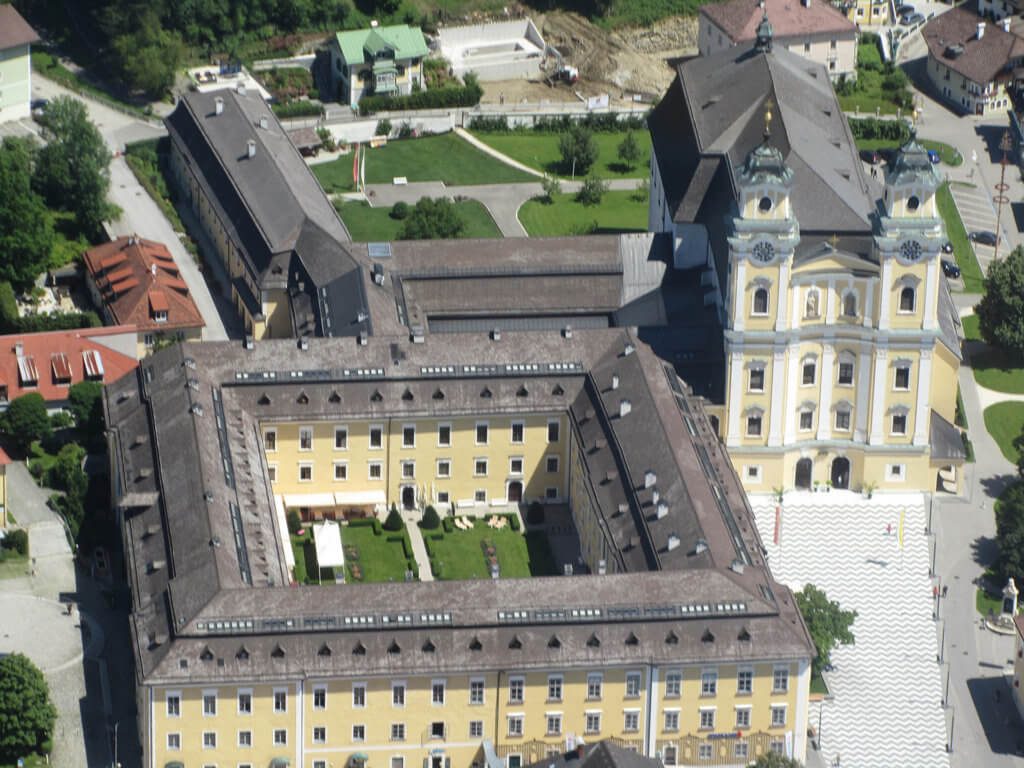 © www.mondsee.at
Schloss Mondsee
Schloss Mondsee in the Salzkammergut is an absolute gem. It comprises a hotel, shops, a music school, gallery, a culture and events center as well as the parsonage. Also, one of the most beautiful registry office is in Austria – the Fürstenzimmer – is located here, providing a magical backdrop for wedding ceremonies. In short: Schloss Mondsee is a unique setting with an extraordinary ambience. You sense the thousand-year history of its venerable walls practically everywhere. The abbey was actually founded in the year 748 by the Bavarian duke Odilo. The first monks here presumably came from Monte Cassino.
Schloss Mondsee / Benedictine Mondsee Abbey
Wredeplatz 1
5310 Mondsee am Mondsee
Phone: +43 6232 2270
E-Mail: info@mondsee.at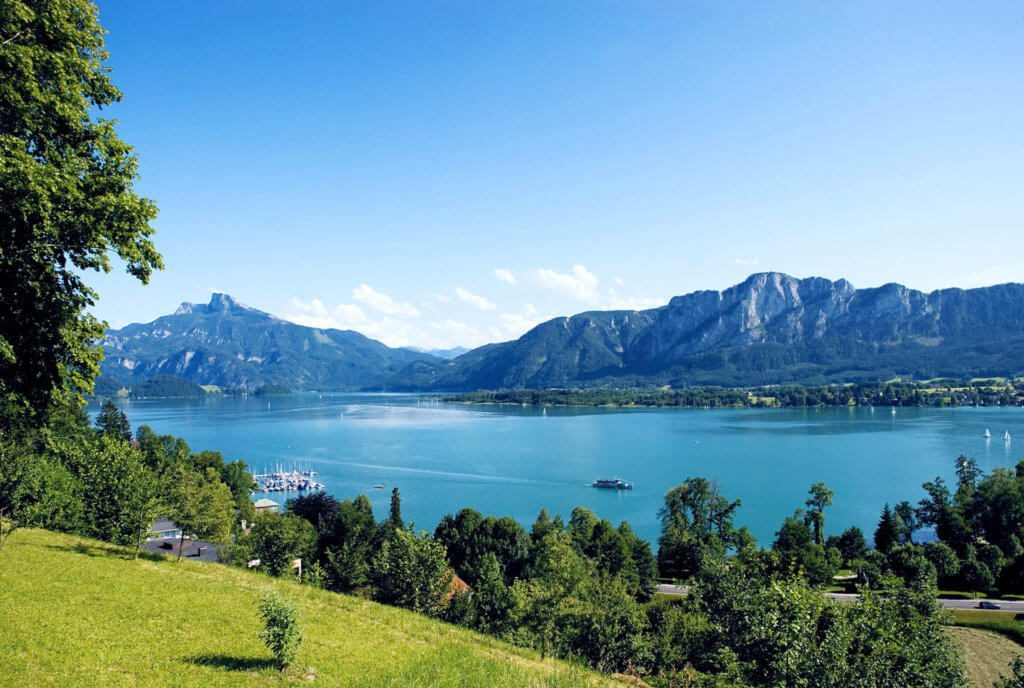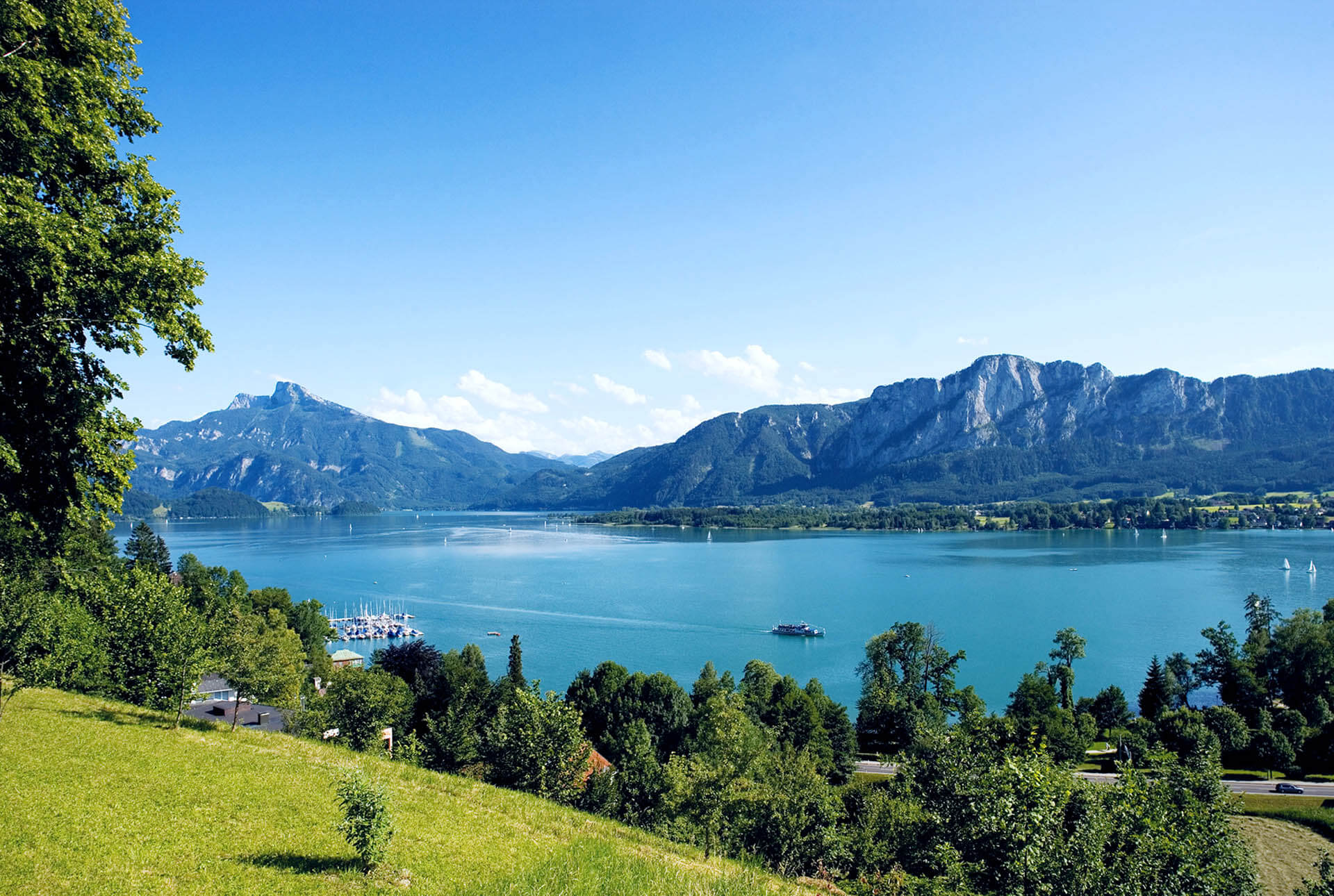 © TVB MondSeeLand
Mondsee Ferries
During a marvelous lake cruise, gaze out in awe across the Mondsee region with its lush meadows and imposing mountain world. Enjoy modern comforts, historically interesting and entertaining anecdotes – while the picturesque landscapes glide past you: the villa quarter of Schwarzindien with its magnificent buildings, the nature sanctuary along the Fuschler Ache, the spectacular hole in the legendary Drachenwand and the imposing Schafberg. Or rent out and electric, pedal or rowing boat and explore the romantic bays of the lake on your own.
Mondseeschifffahrt
Seebadstraße 1
5310 Mondsee
Phone: +43 6232 4934
E-mail: office@mondseeschifffahrt.com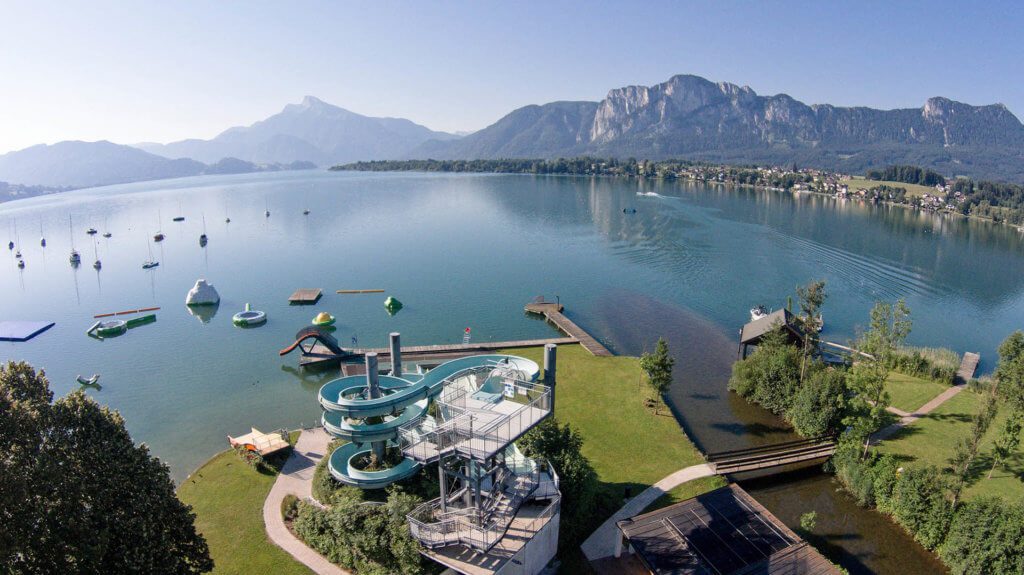 © www.mondsee.at
Alpenseebad Mondsee
A sandy beach on the lakeshore? Yes, at Alpenseebad Mondsee you will be able to experience a seaside feeling hand-in-hand with breathtaking alpine scenery! In addition, you will have great swimming and sliding fun: perfect for an amazing summer's day spent with your whole family – in a nicely maintained, pleasant setting with spacious lawns for sunbathing. There's a lot here for the kids: a diving platform, two exciting slides and a great paddling pool for the youngsters are all great attractions. Boredom is never an issue – also thanks to beach volleyball, badminton and table tennis. In that way, mom and dad can relax marvelously, before everyone gets back together and heads off to the excellent snack bar for a bite to eat.
Alpenseebad Mondsee
Seebadstraße 3
5310 Mondsee
Phone: +43 6232 22 91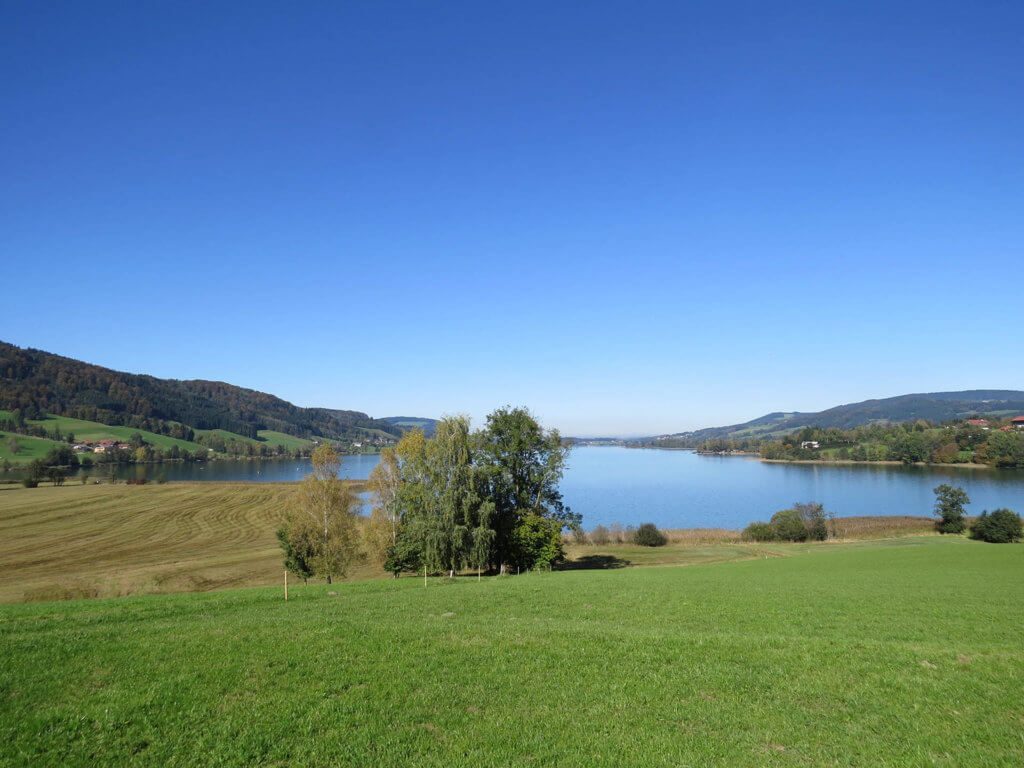 © www.mondsee.at
Irrsee
Irrsee – also known as Zellersee – has been officially proclaimed the warmest lake in the Salzkammergut. At the height of summer, it can reach water temperatures of 27°C and is completely under nature protection. Needless to say, the swimming beaches are highly popular with water lovers and sun worshipers, both big and small. The wonderfully clear water, gloriously fragrant wild-growing meadows and charming countryside promises pure recreation. And all of this just a 25-minute drive from Salzburg, home of the world-famous festival. Look forward to carefree hours of summer and a sensational timeout on this legendary swimming lake.