Red Bull
meets architecture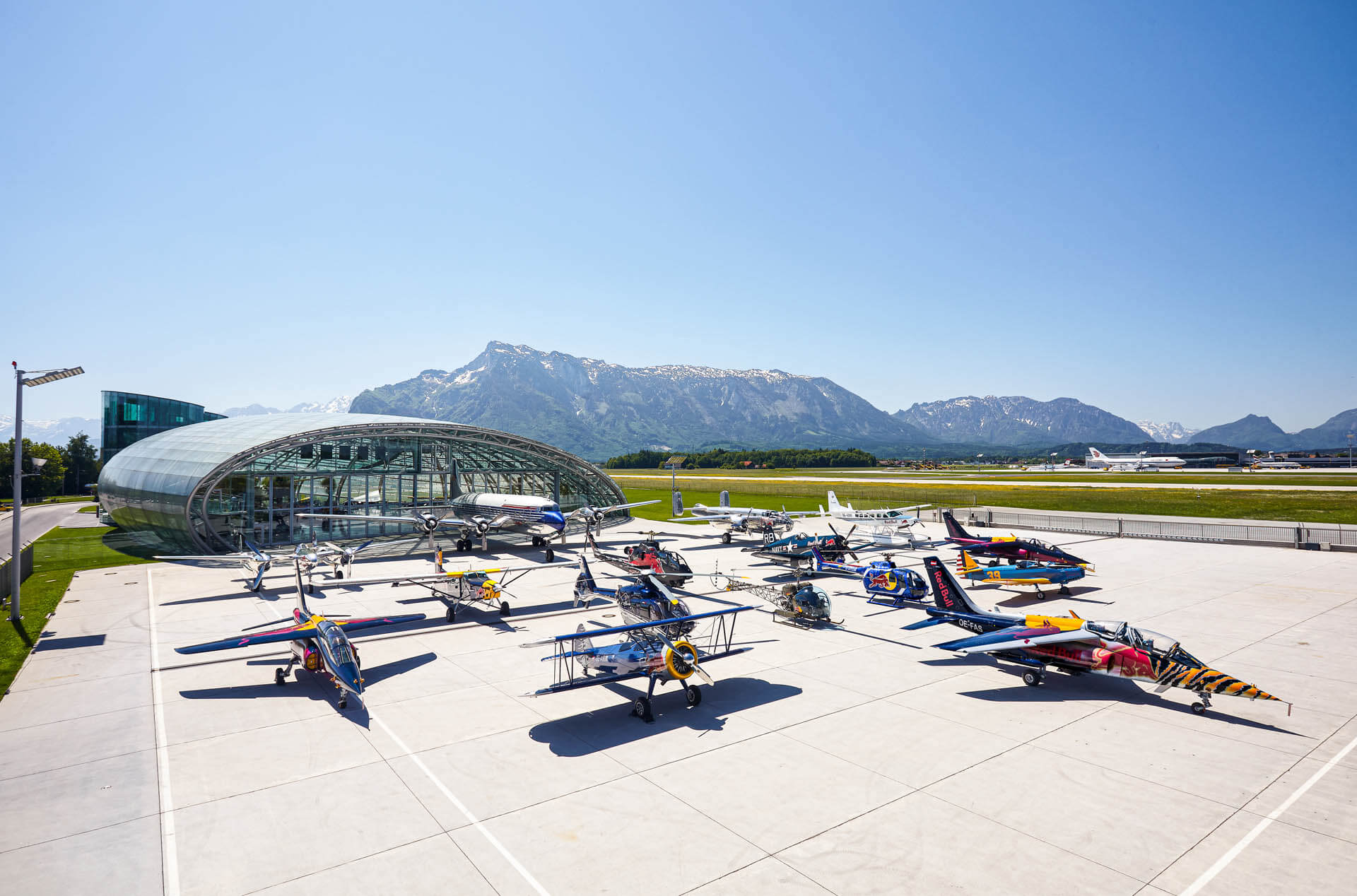 © Helge Kirchberger Photography | Red Bull Content Pool
Red Bulls Hangar-7
Hangar-7 – on the east side of Salzburg Airport – has become the epitome of avant-garde architecture. On the inside, the glass construction is like a celestial expanse extending above the historic aircraft and other exciting exhibits. It's also rewarding to look in from the outside: The seemingly light architecture visually disguises the fact that this building was conjured up from 1200 tons of steel and 280 tons of special glass.
The actual exhibits are also intriguing: from the helicopter used by the Flying Bulls, to Red Bull Formula-1 race cars and KTM motorcycles.
Art that astonishes
What you might not expect in a place like this: Hangar-7 also dedicates space to an art gallery. Stylishly presented to visitors beneath the glass dome are extraordinary photographers and works of art. Here, giving everything a once-, and twice-over is definitely rewarding.
At Hangar-7, art and technology lovers are both in for a real treat.
Dining that excites
Hangar-7 isn't just an extraordinary museum, it is also home to gastronomy and cuisine raised to the highest level. Here, you will find Restaurant "Ikarus". The Ikarus is world-famous for its concept: Every month, a different international top chef cooks there. No matter from what continent, no matter what style of cuisine. All are united by their passion for cooking and the ultimate culinary expectations they place on themselves.
The gastronomic offer is further complemented by the "Carpe Diem Lounge – Café", the "Mayday Bar & Threesixty Bar", as well as the Outdoor Lounge, a great place to enjoy a cool, laid-back summer feeling during the warmer months.
Further information and event tips can be found on the website of Hangar-7
Red Bull Hangar-7 GmbH
Wilhelm-Spazier-Straße 7A
5020 Salzburg
Phone: +43 662 2197
E-Mail: office@hangar-7.com