Eugendorf
meets milestones of mobility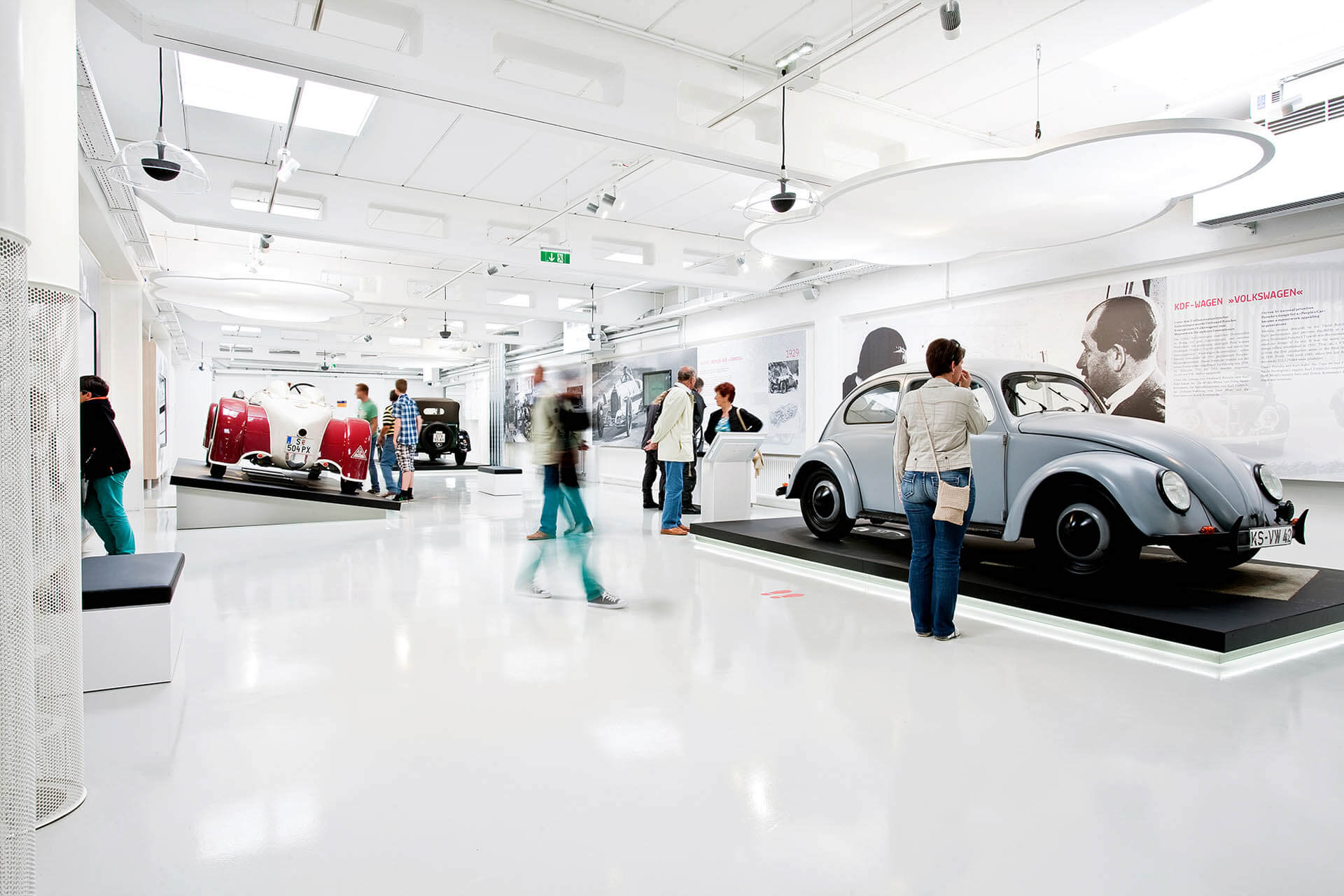 Ferdinand Porsche Erlebniswelten fahr(T)raum Mattsee
The "forefather" of Porsche and VW developed his first automobiles with Lohner in Vienna and Austro Daimler in Wiener Neustadt. One quite sensational fact is that, even all the way back then, electric and hybrid engines were installed. That said, he also wrote history with the Austro Daimler "Prinz Heinrich", generally deemed to be the world's first true sportscar, as well as with the "Kaiserwagen" from 1912.
Visitors to fahr(T)raum Mattsee can marvel at many of these astonishing milestones of mobility. The presentation of these valuable automobiles is such that you are brought face-to-face with the car chassis, while multimedia touchscreen displays pop up all the facts you could possibly wish to know. For an entertaining change of pace, ultra-modern simulators provide a lifelike driving experience, even allowing you to feel the centrifugal forces on your own body. A great family gathering spot is the slot-car racetrack where young and old with a fine touch and good instincts for the turns can emulate their favorite motorsports idols. A newly designed children's world also awaits the youngsters, as do guided tours that playfully introduce them to the fascinating world of automobiles.
A little-known fact, even today: Beginning in 1915, Ferdinand Porsche also focused on motorizing agricultural vehicles – some of which can be seen in the Tractor Shed – including development of the so-called "Volksschlepper", the first prototypes of which were built in 1938.
Erlebniswelten also offers chauffeured drives through the incomparable Salzburger Seenland countryside, as well as limousine service for weddings and other special occasions, in eye-catching vintage vehicles. Further information is available on their website.
Further Information
fahr(T)raum Mattsee
Passauerstr. 30
5163 Mattsee
Phone: +43 6217 592 32
E-Mail: office@fahrtraum.at