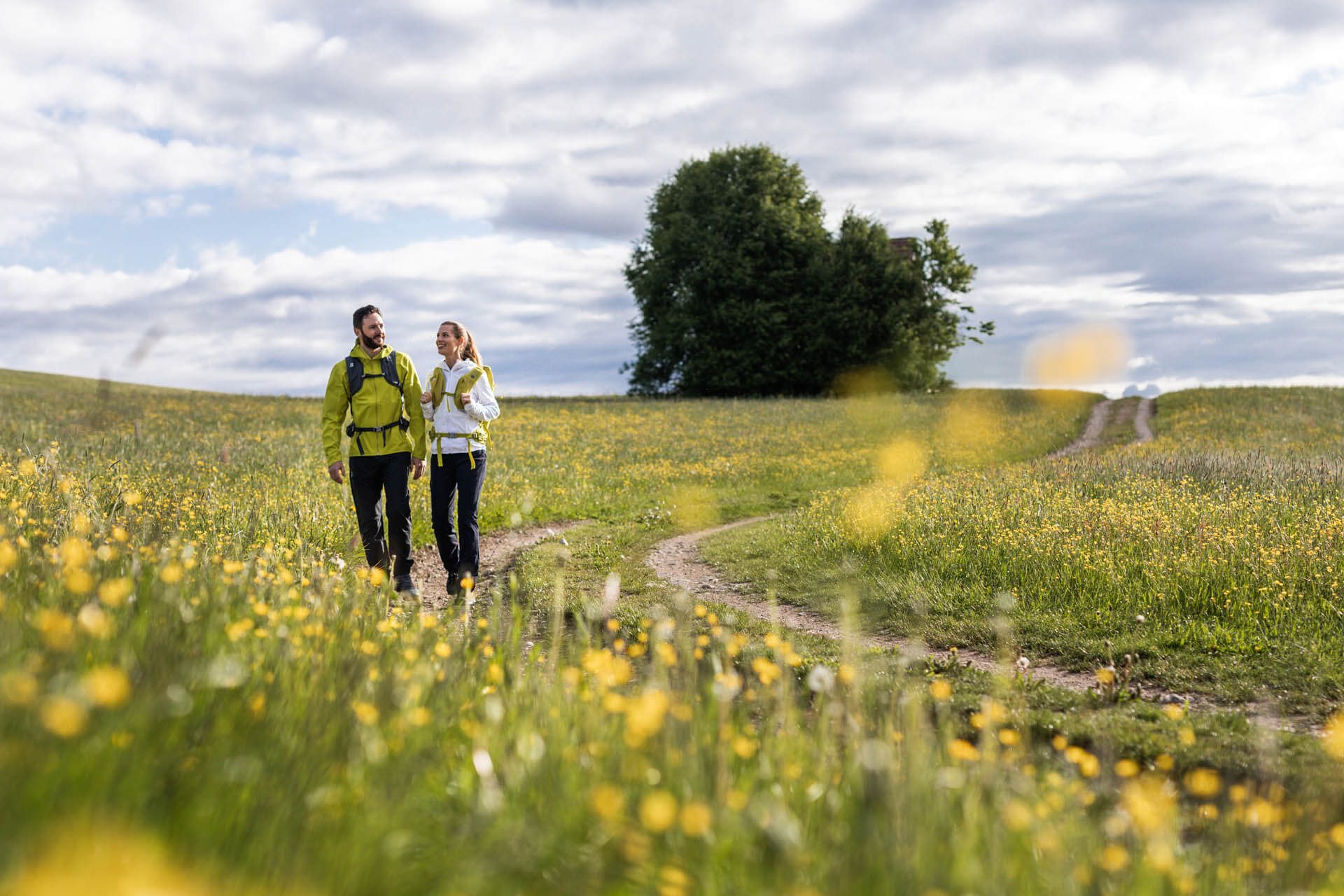 © SalzburgerLand Tourismus
Pilgrimages in SalzburgerLand
During your journey, enjoy nature and hospitality as you discover the path back to your true self. "Modern" pilgrimages of today are no longer purely motivated by religious intentions, but also by the search for a combination of tranquility, balance and self-discovery. SalzburgerLand offers pilgrims many opportunities to do just that. And in fact, two very popular pilgrimage routes lead right through Eugendorf.
The Way of St. James
Many associate the Way of St. James purely with Spain and the beautiful city of Santiago de Compostela, site of the tomb of St. James and the conclusion for pilgrimages along the "Camino Santiago". This path was first chronicled back in the year 1047, also in connection with the grave. It is said that James had come as a missionary to Spain. But he wanted to return to his home town of Jerusalem, where he was ultimately executed by King Herod Agrippa. His body was transported to Spain where, above his tomb, a chapel, then a church, and later a cathedral were built.
However, few people know that there are actually numerous Ways of St. James across much of Europe. These paths have existed since the Middle Ages, linking chapels and churches that have been consecrated to St. James. All of them are indicated by means of a shell, the famous symbol associated with St. James pilgrims – in earlier times, the shell served as an eating utensil, drinking vessel and tool. The symbolism has endured and thus marks the various pilgrimage ways.
The Salzburg path initially leads pilgrims through the Salzburg Lake District, from Henndorf and Eugendorf to Salzburg City, then via Grossgmain, Bad Reichenhall, Unken and Lofer to the border with Tyrol.
The Path of St. Rupert
It was during a time of unrest and religious tumult that the noble Bishop Rupert left his home to carry the joyous message across the world. Rupert always saw himself as a pilgrim in the service of Christ and as a successor to the apostles – in the year 650, Rupert set out to explore new paths and proclaim the good tidings. Alone or with companions, he traveled many different routes.
The main path, which also connects Bavaria and Salzburg, leads from Altötting through the Rupertiwinkel, past the city of Traunstein and on to Bad Reichenhall. It ends at the tomb of St. Rupert in Salzburg, whose remains lie beneath the high altar of Salzburg Cathedral.
If you branch off in Waging, Bavaria, you can also travel via Laufen, Oberndorf, Seekirchen and Eugendorf towards Salzburg. Setting out from Eugendorf, you can explore a route consisting of several daily stages through the Salzkammergut, via Fuschlsee and Wolfgangsee, to the Postalm, then via Annaberg to Bischofshofen. From there, you will continue to Salzburg City. This route through SalzburgerLand and Upper Austria is rich in impressive landscapes, adding to its popularity with pilgrims. The symbol of the Path of St. Rupert is the cross of St. Rupert, an important symbol of Christian faith also incorporated into the way-markers.
www.pilgerwege.at (only in german)
Read more about pilgrimages in SalzburgerLand here: www.salzburgerland.com